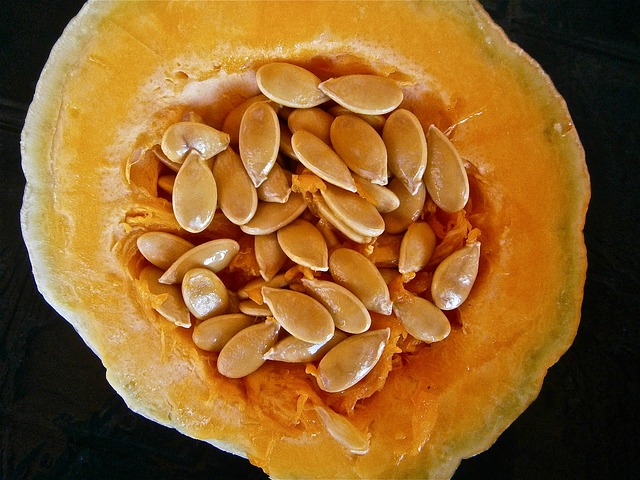 Have you been throwing away your pumpkin seeds thinking they are useless ? Unfortunately, we've been wrong because pumpkin seeds are one of nature's perfect foods. They are packed  with  fiber, magnesium, manganese, vitamin K, vitamin E, vitamin C, potassium, phosphorus, and plant-based omega-3 fatty acids.
5 Phenomenal Benefits of Pumpkin Seeds For Your Body
Pumpkin Seeds are loaded with Magnesium.  Most Americans are magnesium deficient. Magnesium is responsible for many functions in the body, including regulating muscle and nerve function, blood sugar levels, and blood pressure. Magnesium is involved in making protein, bone, and DNA.
Pumpkin seeds naturally enhance Immune System. Pumpkin seeds contain Vitamin E and antioxidants, which  strengthen your immune system and keep your blood vessels healthy.
Pumpkin Seeds Improve Mood and Minimize Hot Flashes. Pumpkin seeds contain tryptophan which is needed to produce serotonin in the brain. They are very high in zinc which is a really important mineral for the menopause
Decrease the Risk of Some Cancers. Pumpkin seeds contain compounds known as cucurbitacins. A study found that pumpkin seeds can also lower the risk of colon, breast, stomach, lung, and prostate cancers.
Pumpkin Seeds can help you with Insomnia.   Pumpkin seeds are a natural source of tryptophan, an amino acid that promotes sleep. It is involved in the production of melatonin and serotonin, which are responsible for our sleep/wake cycle.
SO, the next time you carve your pumpkin, don't toss out the seeds!