This handy infographic explains the PH balance of many popular foods…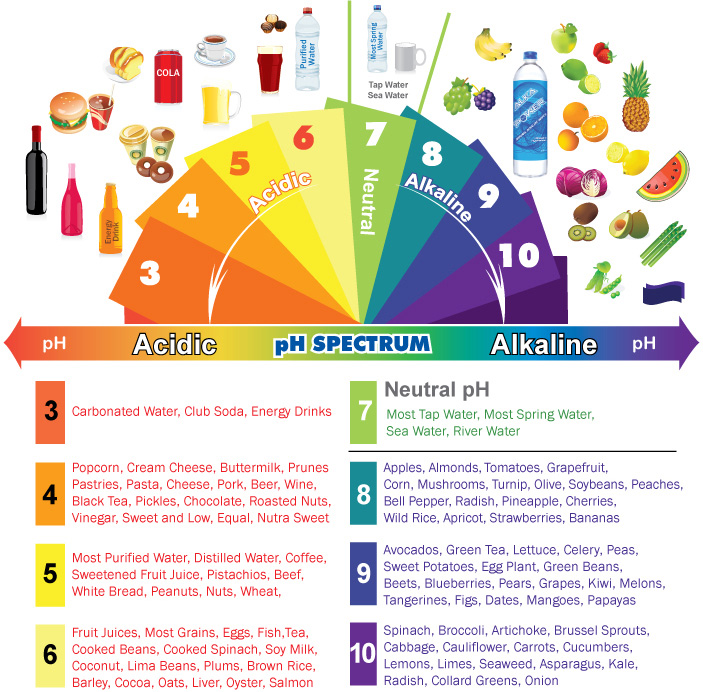 You may not have known it, but keeping your diet primarily alkaline rather than acidic is a much healthier alternative and can add years to your life.
"The human body goes to great lengths to maintain a slightly alkaline PH of 7.35, but poor diet and stress can change the PH to an acidic one in which disease can thrive," says Raw Food Health. You can help your body out tremendously just by adjusting your eating habits.
The modern way of life, particularly in fast-paced Western countries, does not lend itself to an anti-cancer, alkaline diet. Convenience food products, microwave meals, packaged snacks and fast food dominate many people's daily menu. It should come as no surprise that these foods are not optimal if you are battling cancer.
But what should a newly diagnosed cancer patient do, right away, to help themselves prepare for the treatments to come and increase their chances for healing?
Here are the six most important dietary changes every cancer patient should make.  While they seem daunting at first, really what the cancer patient needs to do is to go back to eating in the way that people have done since the beginning of time:  fresh food, in season, simply prepared.
Eat an alkaline diet to reduce inflammation and improve intracellular pH
Most people in the Western world today eat a diet that promotes inflammation and increases intracellular pH, a condition called latent acidosis – understood to provide a perfect environment for cancer to proliferate.  A properly constructed alkaline diet will improve your intracellular pH over time, and is the best defense against continuous inflammation in the body.  It is composed primarily of organic leafy green vegetables, herbs and spices, root vegetables, onions, garlic, leek and chives, broccoli, cauliflower and cabbages, beans, lentils and peas and nuts and seeds, combined with a small amount (a cup or two per day) of non-gluten grains such as rice.  A serving of between two and four ounces of clean fish, organic poultry or grass-fed meat, several times per week, can be part of a healthy, alkaline oriented diet.  Two to three pieces of whole fresh fruit a day help balance your vitamin and mineral consumption.  The more of your vegetables and fruits you enjoy raw, the better.[iv]
Eliminate sugar.[v]
Cancer cells use more glucose (sugar) per unit of time than other cells.  Sugar metabolism creates acid, which also supports cancer progression.  Further, a diet high in sugars, including fruits, triggers the insulin response.  If you frequently eat sugar or fruit throughout the day, you suppress your immune function while increasing the insulin levels in your body, creating insulin resistance.  Insulin resistance has been directly tied to cancer proliferation.   Processed sugar depletes magnesium in the body, another contributor to cancer proliferation.  High fructose corn syrup, because of its processing methodology, is high in mercury, a cancer-promoting toxin in the body.  The recommendation to eliminate sugar includes sugar in all its forms, even "natural" sugars like honey and agave, as well as white sugar and high fructose corn syrup.  Enjoy unsweetened applesauce, two or three figs or dried apricots, or a piece of fresh pineapple if you need a sweet treat.  Moderation with fruit is important, as fructose has been shown to increase the rate of cancer cell division as much as two-fold – more than other forms of sugar.[vi]
Glutinous grains cause inflammation.  Inflammation promotes cancer progression.   This means avoiding high-gluten grains such as wheat, spelt or rye, including the whole grains.  Pastas, cereals, bread, muffins, cakes, crackers, cookies and other baked goods are excluded from an alkaline, cancer-suppression diet.  Cancer patients should enjoy whole, non-gluten grains such as rice, buckwheat, quinoa, millet and amaranth.  However, using "gluten free" prepared products is a mistake, as most of them have added sugar or processed oils and will therefore fall outside of the alkaline diet parameters for cancer.
Eliminate dairy products. 
Cow dairy has been identified in a very large study compiled by Prof. (Emeritus) T. Colin Campbell, PhD, Cornell University as one of the most cancer promoting foods.[viii]  Strangely enough, it is the protein that is the culprit – casein protein.  High protein yogurts made with added powdered milk or whey are even more cancer promoting than plain milk, yogurt or cheese.  However, all dairy products should be eliminated from the diet when you are fighting cancer.  Dairy products create inflammation, cause bone deterioration (yes it is true, because of the high acid production during digestion of dairy) and promote cancer progression in a similar fashion to sugar.