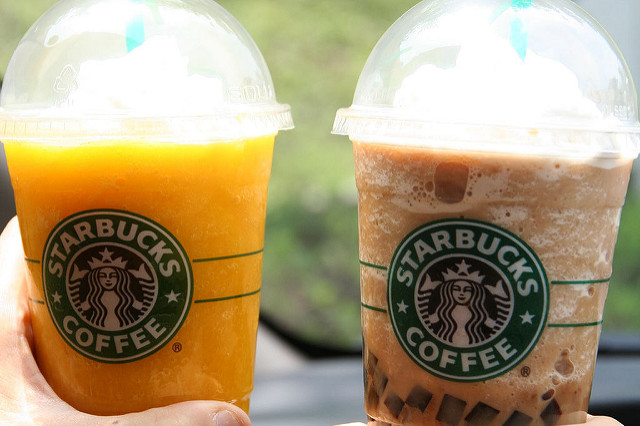 I broke up with Starbucks – with their nasty, pesticide containing, processed sugar filled drinks. Did you know that Starbucks uses ingredients that are scarier than bugs and could even be harmful to your health? A tall Starbucks Frappuccino, one of their most popular drinks, contains 459 calories, which is equivalent to a McDonalds Big Mac.
That's where the real sabotage begins…
FRAPPUCCINO BASE
This special base contains sugar, water, natural and artificial flavor, potassium sorbate, citric acid (don't be fooled—this citrus flavor is made almost exclusively from genetically modified corn), caramel color (more on this below), and xantham gum (a thickening agent).
Light Coffee Frappuccino Syrup (US version): Water, sugar, Erythritol (E968), Natural Flavors, Salt, Carageenan (E407), Xanthan Gum (E415), Maltodextrin, Preservative: Potassium Sorbate (E202), Citric Acid (E330), Reb A, Color: Caramel (E150d, E150b)
CARAMEL SAUCE
Calling caramel sauce outrageously unhealthy is also an understatement. The UN categorizes caramel color into 4 classes; the one found in Starbucks' frap is Class IV, the most dangerous kind. It is made by heating ammonia and sulfites under high pressure, creating a carcinogenic (re: cancerous) compound- specifically, lung, liver, and thyroid cancer.
CARAMEL SYRUP
Your source to even more sugar, and a coloring agent which contains 2-methylimidazole and 4-methylimidazole, which may lead to lung, liver, and thyroid cancer.
WHIPPED CREAM:
(contains vanilla syrup which further contains sugar, water, natural flavors, potassium sorbate, citric acid, and caramel color).
SUGAR
The quantity of sugar in some of Starbuck's most popular drinks are outrageous!! The American Heart Association recommends limiting the amount of added sugars you consume to no more than half of your daily discretionary calories allowance.
Starbucks may use GMO-free (non-organic) milk in its coffee drinks, but only 1.1 percent of its coffee is certified organic.